October 7, 2017 11:18 AM EDT
Feature Request: Adjusting the Admin area - Width.
Feature request sequence: A
Description: It will benefit every admin of the SE software; The admin area is more user friendly after changing to full 100% width. Why only use a fix width of 950px if you have a full screen to work with?
All fields and other data on one line instead of being cropped to the next line. Also the Layout Editor will look much better with a wider list for the widgets. Also the "login as Member" link will show up on the Member Manager page instead of scrolling to the right.
Most of us admin will prefer a wider screen to look at.
This request is: for the layout adjustment of the admin area in total.
At the minute it is only using a "width: 950px" which is way too low as it cripples all columns and data. An examples below you see the 950px.
The layout should be a minimum width of 100%.
So all columns in the rows look much better.
"The Members > Manage Members" needs a full overhaul to adjust to the new width.
Member names should not end in "Jack Tes......" this should be full names.
All fields shown should be on one line and not cropped to the next line. Get rid of the 1% for the column or increase it so it fits a good looking column without cropping to the next line.
All other modules with listings need to be checked for the overall width.
All other modules should get the columns checked for width.
All other modules should have the columns adjusted to the full width of a field and not ending in dots.
Here a sample of Width: 950px
Here a sample of the layout editor, look already better at 1400px width, preferable full 100% if possible. The list of widgets are easier to read, better than the small list at 950px: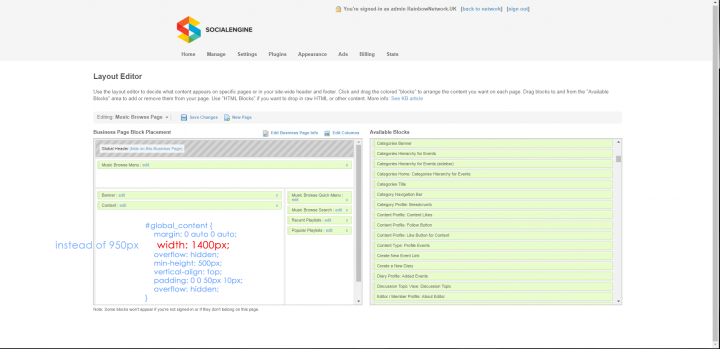 Here a sample of the columns messed up at 950px, should be adjusted to full 100% width of the page to suit the columns better: