September 23, 2020 10:39 AM EDT
1. Would the moderator "flag" a user for ban? This flagged member would show in admin for the admin to then determine whether the user gets banned or not.
1A. To me, a "Moderator" is equally empowered as an "Admin" to administer *daily tasks* as needed. Its my thought that a proper and popular SE site should have adequate staffing to support it.
With that being said, "members" are currently able to "report" posts.
When an Admin or Moderator views "abuse reports", "member" reported content is visible and action is available.
Its within that area that reported content is reviewed by the staff (Admins and Moderators) and actions are carried out. See image.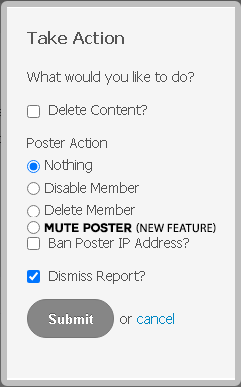 2. That begs the question, would there be an input box for the moderator to explain why this member is flagged? I would assume the moderator would attach screenshots with this.
2A. If a member requires "muting", no explanation by staff is necessary. As this action is only allowed by trusted Moderators and Admins, there is no further justification needed.
Retaining of the abuse reports log is sufficient.
3. Would the flagged member be on a temporary "hold" status with no posting until an admin determines whether this member is banned or not?
3A. The current function in terms of the offended user is great. They "report post" and that post is hidden from them.
3B. The reported member would be allowed full functionality during the "review phase". Meaning they are not on a temporary hold. The reported content may turn out to be fraudulent and the like, hence no reason to penalize the reported member for nothing (at this point).
4. Would a moderator be able to ban the user themselves if number 1 is a "no"?
4A. Yes.
5. Does the member get a notice of this in their inbox and email? If so, what does that notice include?
5A. A muted member will realize that their functionality is limited on their own.
The desired functionality of muting only restricts their ability to post, comment, react, and the like, however, they may still use the site.
If a muted member is "confused" as to why they are muted, they will contact the staff directly.
6. Can the member submit a request to unban to the admin?
6A. If a muted member is "confused" as to why they are muted, they will contact the staff directly.
Thank you!